deHavilland Mercury 3 Preamplifier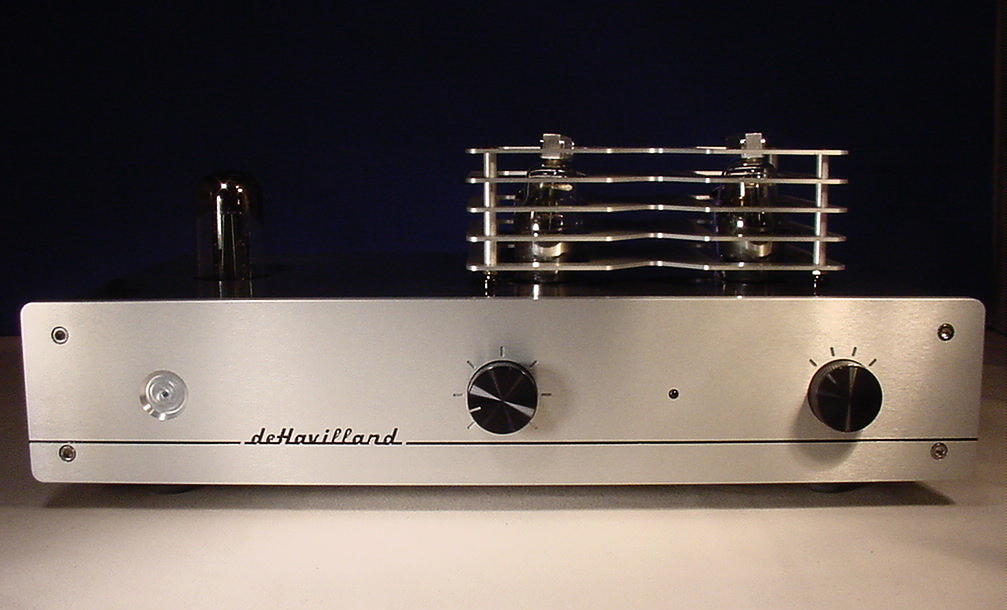 "deHavilland Electric Company's winning formula is also based on design simplicity and tube rectification and I think now offers the best sound in tube line preamplification on this planet."--- Dick Olsher, Enjoy The Music.com
Product Information
We are proud to bring our top of the line Mercury 3 Cascode vacuum tube line stage preamplifier to production.. It features the Type 85 six pin triode vacuum tube, and all vacuum tube rectification, using the 5AW4 octal tube rectifier. The Mercury 3 Cascode preamplifier is the next step beyond the highly acclaimed UltraVerve and our first Mercury preamplifier.. We designed around the beautiful Type 85 triode vacuum tube because of, quite simply, its ability to touch the ineffable.
We developed this line stage to complement our single ended triode amplifiers. One of the things we achieved was to design a preamp that did not damage the dynamic quality of the music. The Mercury 3 Cascode line stage is a true zero negative feedback Class A design. The tube complement coupled with tube rectification produces a huge, full-bodied soundstage and an angelically sweet and dynamic midrange. This preamp is just a joy to listen through.
The Mercury 3 Cascode preamplifier features 100% hand wired point-to-point circuitry in the audio as well as the power supply circuit. The brushed aluminum front panel is available with either a silver or black anodized finish.. It features a soft start turn on circuit for gentle startup. The design places very little stress on the tube compliment. This assures extremely long service and sonic life of the tubes. Quality, Value, and Performance, by deHavilland, "Hand made in California with a passion for sound since 1997"
according to Kara:
The vacuum tubes we employ give you what in "Tube Lore" is described as "BIG TONE", something you just can't get with nine pin miniature tubes found in most preamps. 12AX7ís or 6922ís just can't get there. While many companies say that the simplest circuit is the best, they donít practice what they preach -- they have miles of circuitry and solid state regulation everywhere. Our R&D shows that regulated power supplies can ruin the dynamics and imaging, just like too much feedback does. We spend more time and money on our filtering and use big, strong 5U4 and 5AW4 tube rectifiers, because they provide super dynamics. Furthermore, all of our power supply and audio circuit wiring is point to point, using the best wire available and the best dielectric known to man -- air. And while others may dress their equipment up with fancy gold or chrome plating and exotic woods that offer little or no sonic improvement, we prefer to use premium components and provide you, the listener with affordable, high quality equipment. Our gear is literally overbuilt to last a lifetime! At deHavilland, we are serious when we say that we want more listeners to be able to experience the beauty of single-ended vacuum tube sound, making this type of pre amplifier available to a much wider range of listeners -- that's our story.
Why SET amplification? go to Conversation with Chief Engineer deHavilland
Reviews
deHavilland Mercury 2 Review by Dick Olsher, Enjoy The Music.com
deHavailland Mercury 2 Review by Bob Olson
deHavilland Mercury Preamplifier by SheffB
Mercury Follow up Review, SheffB
Show Reports and Awards
"Standout Demo CES2006", Soundstage Network
CES 2006 "Best Rooms" by Roger Gordon
NEW! Best Bets 2005 by Mike Quinn, Jazz Times
CES 2005 by Dick Olsher, Enjoy The Music
CES 2005 by Wes Philips, Stereophile Magazine
CES 2005 by Greg Weaver, Positive Feedback
NEW! A Tours De Fons CES 2005 by Marja & Henk, 6 Moons
Rocky Mountain Audio Fest 2004 with Overkill Audio
CES 2005 by Dave Thomas, Stereo Times
Rocky Mountain Audio Fest, by Robert Harley, TAS
Rocky Mountain Audio Fest 2004 by Roger S Gordon
Rocky Mountain Audio Fest October 8
Grid caps, custom made on our CNC vertical mill, feature pure billet copper spring loaded contact. Please note the grid caps are completely safe and do not carry any DC voltage.
Product Features
* All tube compliment
* Vacuum tube rectification
* Heater warm up delay timer
* Cardas Cable
* Silver teflon coated high purity copper wire
* Wonder Solder
* 100% hand wired point to point circuitry
* NEW! Silver or Black anodized brushed aluminum front panel
* Paint filled engraved logo
* Brushed aluminum anodized silver or black
* Output level balance controls - optional
* Side Wood Panel Ready- Chassis includes 2 per side 8-32
threaded anchor points to mount custom side panels.
* Shielded AC supply IEC cable
* High voltage power supply transformer
* High voltage 5AW4 rectifier tube
* Ground floating switch
* Vampire high purity solid copper wire
* Military Spec Paper in Oil Capacitors
* Auricap Capacitors
* Roederstein Resistors
* NEW!!! Stepped Attenuator
Custom made relay actuated analog computer controlled 32 step stepped attenuator with or without remote control... NOW AVAILABLE.!!!
Design Specifications
bandwidth 20Hz to 80 kHz
output class Class A
feedback zero negative feedback
maximum output 30 volts p-p, gain approximately 12dB
signal triodes 2 X Type 85 SingleTriode
cathode follower 2 X 6BL7 Dual Triode Cascode Circuit
rectifier tube 1X 5AW4 or 5U4
signal/noise ratio 85dB
inputs four stereo
outputs two stereo
input impedance 50k ohms.
output circuit Cathode follower, minimum 10k Ohm load
dimensions 18"w, 11"d, 6"h
weight 26 lbs. including shipping carton.
Pricing:
Mercury 3 Preamplifier-----------------------------------------I----------------------- $ $3,995.00
Mercury 3 Remote Control Preamplifier------------------------------------------$ $4,495.00

Award Winning Single Ended Triode Amplifiers and Preamplifiers