deHavilland Ios Stereo 845
25 Watts Per Channel SET Stereo Amplifier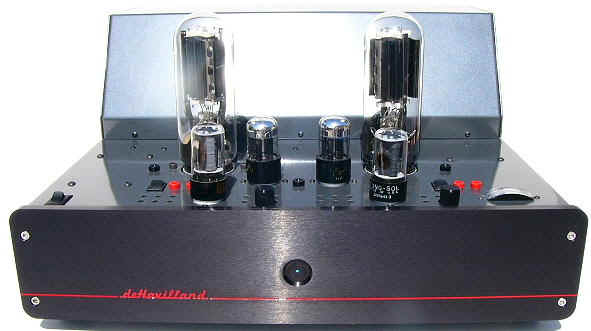 Introducing the new deHavilland Ios Stereo 845 single ended directly heated triode amplifier. The deHavilland Ios delivers the superb sound quality of the highly acclaimed Aries 845-G monoblocks and features 25 watts RMS power output per channel into 8 ohms. The deHavilland Ios is a 100% pure Class A single ended triode zero negative feedback vacuum tube amplifier. The Type 845 directly heated triode vacuum tube is justly famous for its sweet tone and authoritative presentation of music. The tube compliment combined with innovative circuitry maintains the right combination of pace, rhythm, and timing. The deHavilland Stereo 845 is designed to drive medium, as well as high efficiency speakers. The dynamic presentation is characteristic of an amplifier many times greater than its rated output.
There is no question of reliability with only three tubes per channel, diagnosing any tube problems that might occur after time is relatively simple. With the on board meter, checking and resetting bias for optimum performance is a real snap. Quality, Value, and Performance, by deHavilland, "Hand made in California with a passion for sound since 1997"
Why SET amplification? go to Conversation with Chief Engineer deHavilland
Reviews
NEW! deHavilland IOS Stereo 845 Amp by Srajan Ebaen, 6moons.com
deHavilland Single Ended Tube Power Amps, By J. Peter Moncrieff
Awards and Show Reports
Rocky Mountain Audio Fest 2004, by Roger Gordon
Rocky Mountain Audio Fest 2004 by Srajan Ebaen
Rocky Mountain Audio Fest 2004 by Steve Rocklin
Rocky Mountain Audio Fest by Dave Clark
deHavilland_845G_SE_triode_Page
Tube rolling with the 845B from Shuguang by Roger Gordon
Design Specifications:
power output-------------25 watts RMS into 8 ohm per channel
output class -------------Class A
bandwidth ---------------20Hz - 35 kHz
power triode ------------2 X Type 845
driver tube --------------2 X 6AU5
voltage amp -------------2 X 6SN7/GTA/GTB
feedback ----------------Zero negative feedback
input impedance-------50k ohms (Values from 10k to 500k available on request)
residual hum------------Less than 2mv.
warm-up------------------Automatic time delay for long tube life and gentle startup
dimensions-------------18.5"W x 19"L x 10"H
weight---------------------64 lbs
Special Features:
* Class A zero negative-feedback design
* Point to point hardwired audio circuit
* Onboard meter for easy bias setting
* Lundhahl Transformers
* TubeWizard five way gold binding posts
* Jensen Paper in Oil Capacitors
* Hovland Musicaps
* Wonder Wire / Wonder Solder
* Cardas Cable
* Kimber Cable
* NEW! Silver or Black anodized brushed aluminum front panel
* NEW! Paint filled engraved logo
* Steel Gray High Gloss Metallic powder coated chassis
* Side Wood Panel Ready- Chassis includes 2 per side 8-32
threaded anchor points to mount custom side panels.
* Aluminum tube cages (optional)
Pricing:
deHavilland IOS Stereo 845-----------------------------------$6,595.00
Optional Parts:
Cardas Gold / Rhodium binding posts and RCA's--$250.00
Modification for Kron KR845 power triode--------------$400.00
Select Sylvania 6SN7GTA/B--------------------------------$100.00 pair
Tube Cages--------------------------------------------------------TBA
deHavilland IOS Stereo 845 Integrated
Noble Volume Control, 3 inputs --------------------------$7,195.00
Goldpoint Stepped Attenuator, 3 inputs----------------$7,695.00
Optional Parts:
Cardas Gold / Rhodium binding posts and RCA's--$400.00
Select Sylvania 6SN7GTA/B-------------------------------$100.00 pair
Modification for Kron KR845 power triode--------------$400.00
Tube Cages-------------------------------------------------------TBA
6SN7 Tube Rolling by Dennis Boyle

Award Winning Single Ended Triode Amplifiers and Preamplifiers