deHavilland UltraVerve 3 Remote Preamplier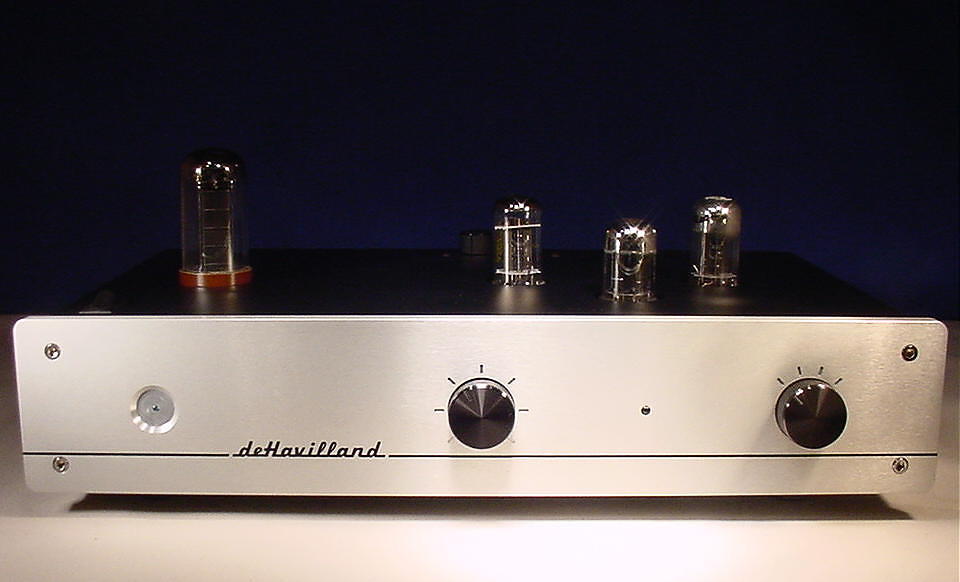 The 32 step precision stepped atteunator is new in the Ultraverve III . This is our proprietary design volume control. It is fully analog and has all discrete resistors switched by precision relays , to change volume levels . It is quieter than a rotary switch attenuator and has 32 steps instead of 24.
Our relay attenuator can be fully remote controlled via the handset shown below. It also has mute ON/OFF buttons that return to the same volume level. The bezel is machined aluminum anodized and engraved with nomenclature. The infrared sensor in the preamp front panel works from a very wide angle and is very reliable.

UltraVerve 3 Remote Preamplifier---$ 2,995
Reviews
NEW! UltraVerve 2 Remote Linestage by Jack Roberts
http://www.dagogo.com/deHavilland-UV-R.html

Award Winning Single Ended Triode Amplifiers and Preamplifiers
Home
Products
Quotes
Shows
Mission
Q&A's
Dealers
Contacts