CES 2004- From the ears of Srajan Ebaen
With the French Metronome player, my second favorite room didn't sport the kind of no-compromise digital front-end the Audiopax exhibit benefitted from but seduced Ivette and me with a very similar, full-body flavor of transportation to elsewhere. It's that very real, very personal destination which the opening page of our site celebrates as the real reason why our audiophile species refuses to go extinct despite the global meteor-hit crisis of Home Theater and surround sound. To reiterate, we're not merely talking good sound which many rooms got right -- proper grammar, proper enunciation, even Movable Feast Hemingway-style profundity of message -- but also the consummate delivery of a master reader/orator whose special emphasis on certain words, certain pauses weaves the spell and uncovers new meaning, hidden connections, greater context: The Alon by Acarian/DeHavilland/Ampex/Prana Wire room in the second-to-last building of the right block in the Alexis Park.
Designer Kara Chaffee (how many women do you know who are actively involved in High-End audio like Kathy Gornik of Thiel; much less design amplifiers, personally, and are bona fide engineers?) - Kara and George Kielczynski from the DeHavilland amplifier company have hit the proverbial gold mine with their 60-watt GM-70 based high-power single-ended amplifier. Just as during HE2003, teaming up with Carl Marchisotto's Alon Lotus SE dual-woofer three-ways and Joe Cohen's Prana cables proved the winning ticket. Alas, the special treat here was an Ampex 351-2 open-reel and a bevy of tapes Kara had amassed in a collector's frenzy shopping spree just prior to CES. And just as with our next room, these show-savvy exhibitors opted for an unconventional layout which was "mildly diagonal". It arrayed the system not at a sharp 45-degree slant but probably something closer to the vicinity of 21° as you can see above. It worked like a charm!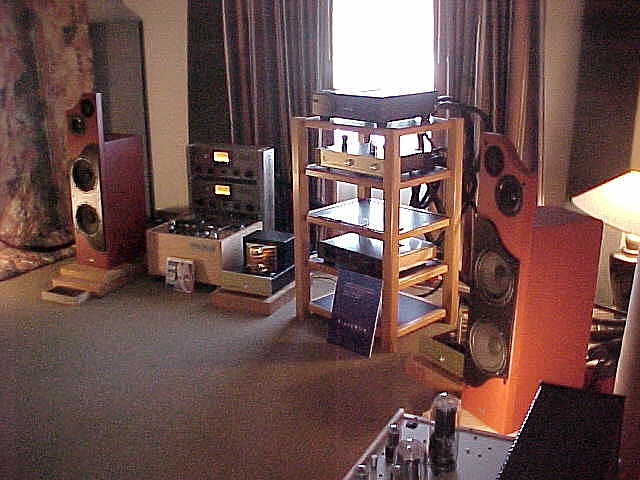 Displaying their new custom tube socket for the GM-70 power triode, I asked George to "look stupid" for a mug shot which prompted uproarious laughter from onlookers as our eager-to-please comedian went through a kaleidoscope of elastic funny faces. To top it off, George then performed a killer impression of a washed-up Las Vegas lounge lizard, lip-syncing to a Sinatra tape in his trench coat, dragging on an imaginary cigarette while lazily holding an invisible microphone. Who sez CES can't be fun? The major news for DeHavilland was a new 845-based stereo amplifier [$4,000, 25wpc, above right in pre-production livery] which will have to battle Art Audio's $3,995 Carissa for the champion's trophy in the affordable 845 SET arena.

DeHavilland always uses a lot of premium iron and chokes in their amplifiers. While their aesthetics aren't as debonair as those of the cosmetic design team around Joe Fratus, their no-nonsense construction and stellar sonics are truly first-rate. Not to put too fine a point on it, component synergy and room compatibility are deal makers or breakers especially at CES where the very temporariness and unforeseeable variables of the situation make real-world smarts more vital than ever. Once you've hit upon a copasetic recipe like DeHavilland has with Prana and Alon or Rethm, you'd be foolish to mess with success. Or, as wily Lloyd Walker loves to put it, the sure way to lose an erection is to f - - - with it. Clearly, this room didn't. Grow wood, don't chop it down. My compliments to everyone involved.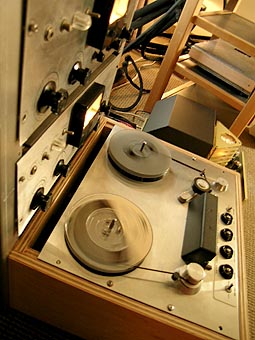 Complete report at http://www.6moons.com/industryfeatures/ces04/ces04_2.html