Music, Sound, and Personalities:
The 2002 WCES, and T.H.E. EXPO
By Dave Glackin, EnjoyTheMusic.com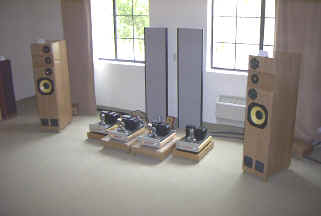 " The deHavilland/Buggtussel system produced a sound that was alive and dynamic, yet delicate, with a great sense of a real choir in space, and excellent low bass reproduction of the organ on Cantate Domino. A pair of Buggtussel Lemniscus loudspeakers was being driven by a pair of dehavilland GM-70 SE triode amps. These are unusual amps, in that the 300B sitting up front isn't the output tube, it's the driver for the output tube, which is a Ulyanov GM-70. An unusual setup, but the results speak for themselves."