| | |
| --- | --- |
| | POSITIVE FEEDBACK ONLINE - ISSUE 11 |
Music, Sound and Personalities: The 2004 CES and T.H.E. SHOW
Top "Sweet Sixteen" Systems by Dave Glackin
Now here is a rundown on the sixteen best systems I heard at the show. Iím not ranking them or giving out awards this year. Rather than producing my usual in-depth, analytical, long report on all of these systems, I decided to provide some brief, but hopefully insightful, comments on the systems whose sound I enjoyed the most. Removing the pressure of trying to compare the sound of every system to every other system in a fair and balanced manner let me relax and enjoy the show more this year. The plan worked ... I think ...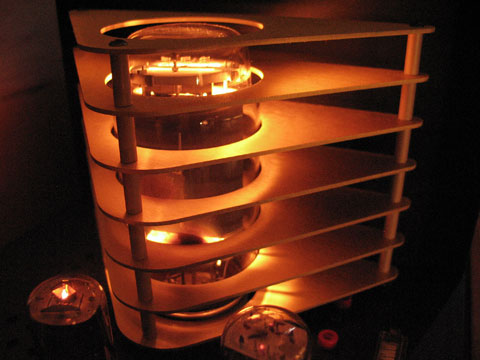 The deHavilland GM-70
George Kielcyznski of the deHavilland Electric Amplifier Company was exhibiting a very compelling system centered around the deHavilland GM-70 monoblock, a 50-watt amplifier that uses the GM-70 tube, a Soviet version of the 845. (The 845 happens to be my favorite tube of all time ... magical things seem to happen when this tube is in the room.) It turns out that amplifier designer Kara Chaffee is also a whiz with tape decks. She brought an Ampex 351-2 back from the dead, and the results are sure worth it. This system, which also featured Prana Wire from Joe Cohen, brought me as much musical joy as anything in the show, as George played reel-to-reel tapes of Simon and Garfunkel: Parsley, Sage, Rosemary & Thyme. I am intimately familiar with this album, and have never heard it like this. My biggest regret of the show, quite seriously, is that I didnít spend more time in this room, and didnít get back there with Stan Ricker. Next year, folks! This was definitely the Room I Wanted to Spend More Time In.
Joe Cohen of PranaWire
Complete report at http://www.positive-feedback.com/Issue11/ces04dg2.htm